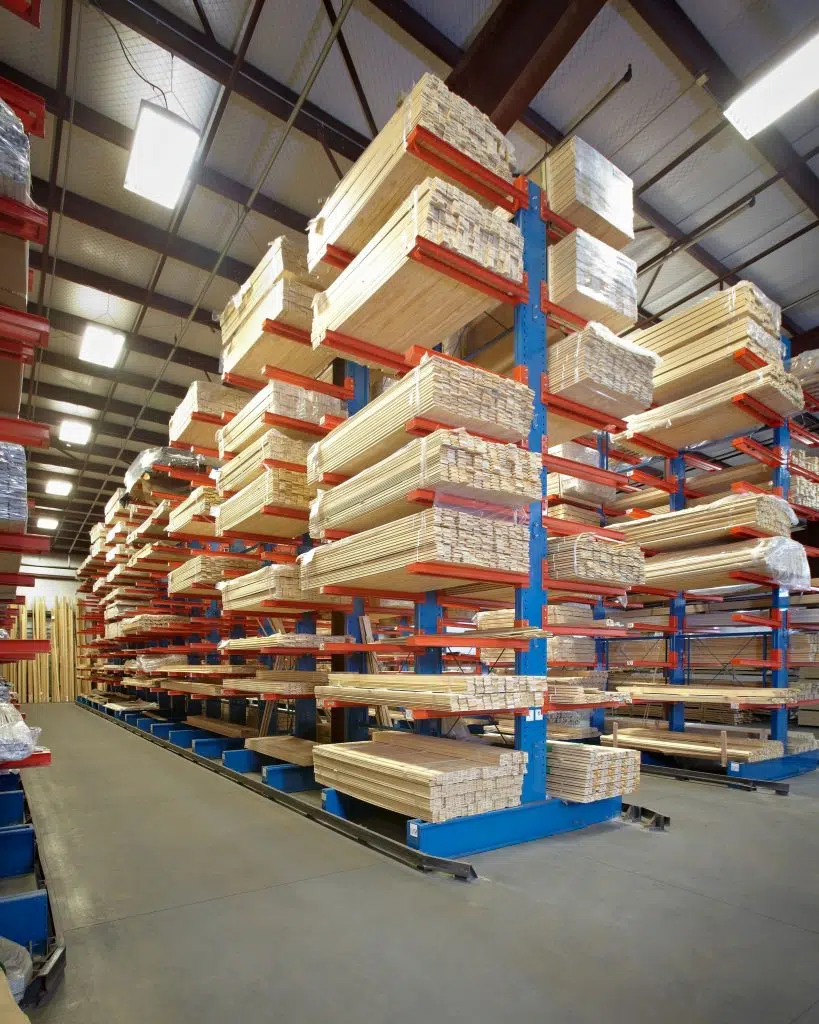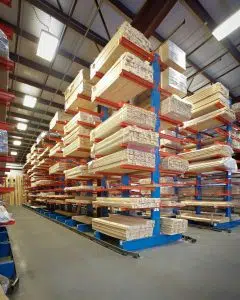 Cantilever lumber racks are cantilever racks explicitly used for storing lumber or wood. Cantilever racks for lumber are no different than typical cantilever racking but can be customized to fit the lumber application best. 
There are many stages of lumber processing. Different stages may require various rack styles to best suit the product's current form. As you can imagine, lumber processing starts with chopped-down, delimbed trees. These massive logs are the heaviest form of lumber that may require cantilever storage and warehousing. 
Logs tend to roll, so inclined arms and pipe stops are two system customizations that can optimize the cantilever system for this application.
Heavy timbers are another processed lumber often used in building and construction. Both unprocessed logs and timbers require heavy-duty cantilever racks for safe storage. 
Light-frame construction members, plywood, and composite board are some other lumber applications. 
Both hardwood and softwood are suitable applications for heavy-duty lumber storage racks. 
Cantilever Lumber Storage Racks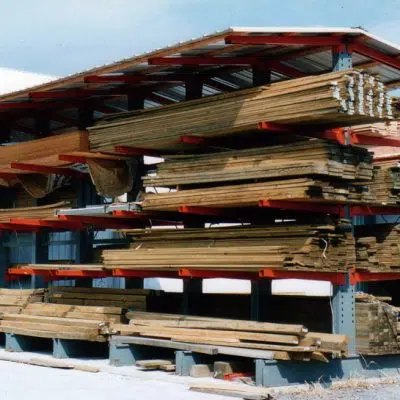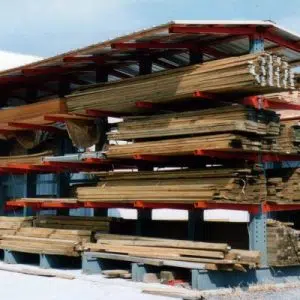 All our cantilever lumber storage racks are strong, but we may recommend high-capacity or lower-capacity racking, depending on the weight of your lumber. Lumber yard storage racks may require cantilever roofs (as shown to the right) or other system customizations to protect against the elements.
We offer series 1000, 2000, and 3000 Meco cantilever racking online at Cantilever Rack Now. These are our light to medium-duty rack options. Small amounts of lumber and plywood could pair well with these cantilever rack systems.
For lumber applications over 2000 lbs, call CRN for series 4000 or 5000 Meco cantilever racking. These series are for heavy-duty and extra-heavy-duty applications. 
We also offer cantilever racking from other manufacturers and can help you choose suitable racking for your lumber storage needs.
Our cantilever racks for lumber are listed below, along with their capacities. These starter units are ordered from lowest to highest weight capacity:
Keep in mind that each component has its own capacity rating. Mixing and matching different arms, towers & bases, bracing, etc., can increase or decrease the capacity limit of the entire cantilever system. 
Stronger cantilever rack arms store heavier loads, so strong arms paired with strong uprights provide even greater storage flexibility.
Cantilever Lumber Racks for Sale
We offer new cantilever lumber racks online, and used cantilever lumber racks can be ordered over the phone or by filling out a quote request form. 
Used Cantilever Lumber Racks For Sale
CRN's used cantilever lumber racks for sale vary all the time. If we have used cantilever racking in stock that seems a good fit for your application, we can offer or substitute some new with used to lower the overall cost where possible. Give us a call and let us help you find the best value used lumber racks for sale near you! 
Ready to Order Cantilever Lumber Racks?
Never DIY cantilever lumber rack or any storage system that will store heavy, high-capacity products. You must consult a storage system expert when developing your warehouse and cantilever lumber rack plans to avoid accidents and personal injury. 
For help finding the right storage system, call us at 888-680-2256 or fill out a quote form.