Heavy-duty cantilever racks increase your options in warehouse storage. Cantilever racking comes in many shapes, sizes, and capacities. Different weight cantilever racks have higher or lower capacity ratings to serve various applications. 
The two main styles of cantilever rack systems are structural or roll-formed. While structural steel racking tends to be heavier-duty from production, roll-formed racks come in various weight capacities, from light-duty to heavy-duty. 
Meco Omaha, our primary cantilever rack manufacturer, offers different series of cantilever racking. Their Series 1000 racking through Series 3000 is ideal for light to medium-duty storage applications. They also provide a 5000 Series heavy-duty cantilever rack line for the heftiest storage needs. 
We offer Meco cantilever racking through our online store and can connect you with other cantilever brands. Call 888-680-2256 to learn more and order cantilever racks for your warehouse.
When to Choose Heavy-Duty Cantilever Racks
Depending on your product and application, you may need heavy-duty cantilever racking. Generally speaking, machine-loaded products require heavy-duty racking. Light-duty racking may suffice for products that are hand-stacked. 
Generally, any load that places 1,000 lbs or more on a single cantilever arm requires heavy-duty racking. However, each added tower increases the system's capacity limit by redistributing the load and reducing the strain on a single arm. Light-duty cantilever racking is great for loads less than 1,000 lbs per arm. 
We always recommend contacting a rack capacity expert when selecting cantilever racking for your warehouse — Call 888-680-2256 to get in touch with an expert today.
Heavy-Duty Cantilever Rack Applications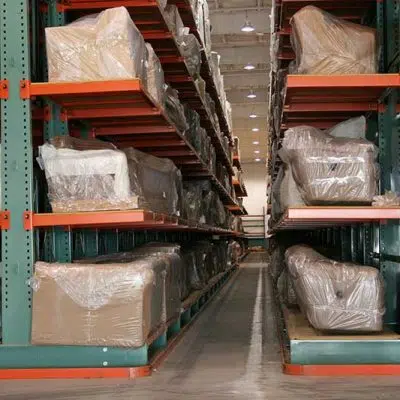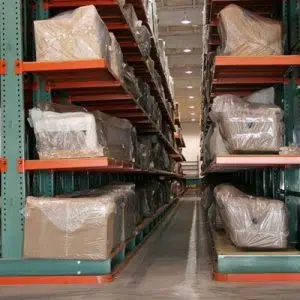 Heavy-duty cantilever racks can store the widest array of products. With no capacity limitations, the storage applications are nearly endless. Some of the most common heavy-duty cantilever rack applications include:
Steel piping

Thick gauge pipe

Lumber

Sheet metal

Furniture

Steel Bar Stock

Stone or metal products
Cantilever racks are great for storing long products that roll. Cantilever lumber racks are an excellent medium or heavy-duty rack system, while cantilever pipe rack (for steel piping) and cantilever racks for sheet metal will always be heavy-duty. 
Need Heavy-Duty Cantilever Racking?
Cantilever Rack Now offers cantilever starter units to get you started on your storage journey. See our high-capacity cantilever rack arms and cantilever uprights. If you need help deciding what cantilever system or component is right for you, call us or fill out a quote form and we will happily help you! We are cantilever capacity experts and can get you the storage system you need.