Welcome to our cantilever rack design guide! This guide contains everything you need to know about cantilever rack systems, their components, applications, and how to purchase a cantilever system for your storage needs. Keep reading to learn more about these unique storage systems. 
What is Cantilever Racking?
A cantilever racking system is a warehouse storage solution for lengthy, large, or odd-shaped products that are incompatible with typical pallet rack systems. Unlike traditional pallet racking that uses frames and beams, cantilever racking consists of a series of uprights and outstretched cantilever arms that support the product.
Types of Cantilever Rack Systems
Structural Vs. Roll-Formed Cantilever
There are two major types of cantilever racking – structural and roll-formed cantilever. Many manufacturing facilities handle very heavy loads and require strong, heavy-duty racking. Only structural cantilever racking is designed to store such heavy loads. 
Structural cantilever is ideal for automated retrieval systems as well because it can be designed much taller than roll-formed racking and carry heavier loads. Structural cantilever can also support a roof or canopy for outdoor applications as well as being more durable for equipment strikes such as forklifts.
Roll-formed cantilever racking is typically lighter and less damage resistant. However, this style of cantilever is less expensive and has more than enough capacity for many applications. Either structural or roll-formed may work well, depending on the application.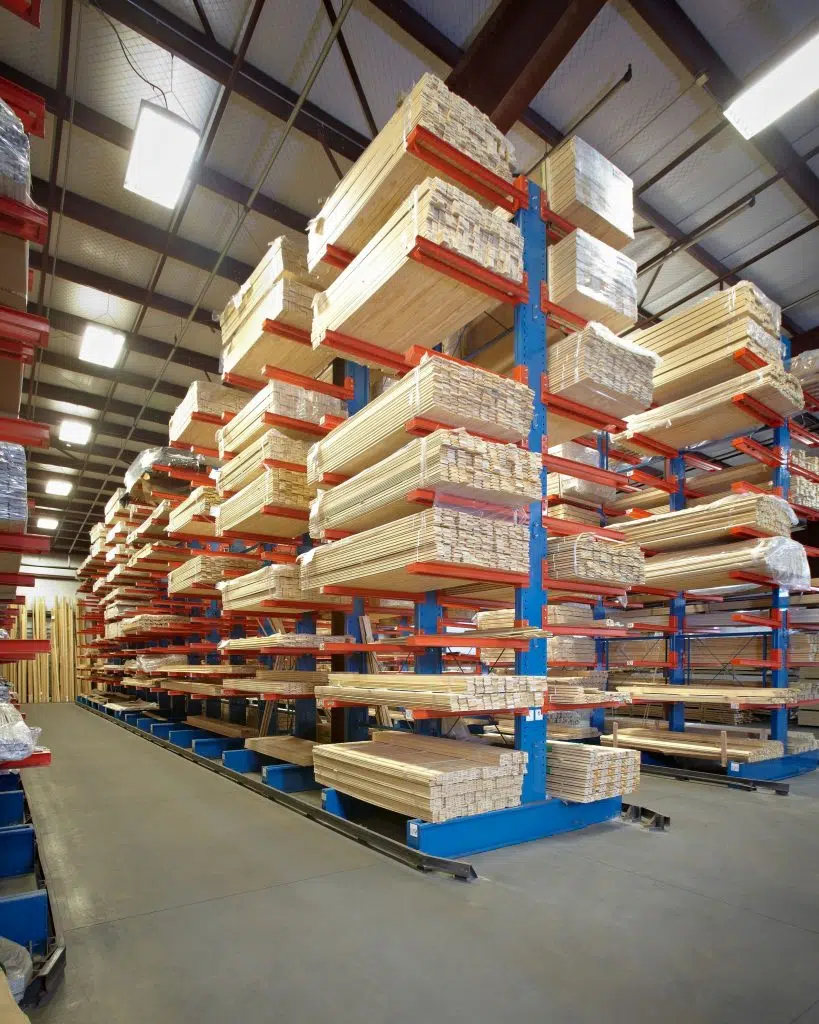 Double-Sided Vs. Single-Sided Cantilever
Cantilever racks come as double-sided or single-sided systems. Customizations such as a roof, decking, straight vs. pitched arms, or accessories are available, but concerning the actual system structure and use, not much changes. 
Although cantilever rack styles and brands are similar, they are rarely compatible. If adding to an existing cantilever system, it is essential to identify the manufacturer.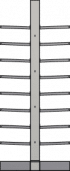 Forklifts can load and unload a double-sided cantilever shelf system from either side — multiple double-sided cantilever systems placed side-by-side create aisles. 

Single-sided cantilever racks typically sit against a wall and are only accessible from one side. Single-sided systems need larger bases to combat tipping or leaning under heavy loads.
Cantilever Rack Components
A bare-bones cantilever system must include the following components to be structurally sound and functional. Order additional sizes and styles through Cantilever Rack Now as well.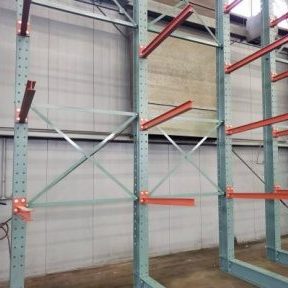 Cantilever Uprights:
A cantilever upright consists of a vertical column that has a bolted or welded connection to a horizontal base. Each cantilever rack system begins with a minimum of two uprights.
Bolted uprights ship unassembled but are easily assembled on-site with the hardware provided. Welded bases and uprights are also available and would ship as one piece rather than unassembled. Both sides of our uprights contain punch holes every 3″, making them compatible with double or single-sided bases. 
Our online stock sizes Include the following: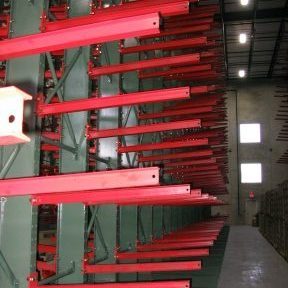 Cantilever Arms:
Cantilever rack arms are the main component of the rack system. Proper selection of the arms can make or break the success of the storage system.
Our standard arms are considered straight arms with a 3/8″ pitch per foot to compensate for deflection. Inclined arms are available upon request.
Hairpin keepers secure arms to the upright. Arm lips are available upon request.
Our online cantilever rack arms include: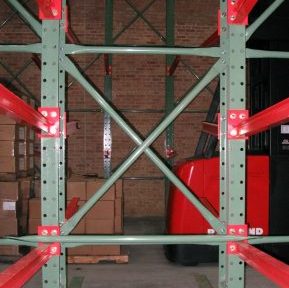 Cantilever Bracing:
Cantilever bracing is structural channel members that bolt the uprights together, providing lateral stability to the entire rack system.
Our bracing typically comes in sets of two or three. Use two braces for our 8′ uprights and three braces for our other heights. Brace measurements are center to center of the upright, so the actual brace piece may measure slightly less than the stated measurement.
Our online stock sizes include:
Please note: all our bracing kits come in sets of either 2 or 3 braces.
Cantilever Rack Accessories
In addition to these main structural components, numerous accessories and add-ons are available for system customization. Here are some common cantilever rack accessories:
Cantilever Arm Lip

– welded or bolted

Bolt-On Pipe Sockets

– needed to secure pipe end stops to cantilever arms

Removable Pipe End Stops – prevents loads from rolling off the end of the arms

Solid Deck – creates a flat surface for large items like furniture

Wire Deck – creates a flat surface to store product on

Roof Brackets – attaches to arms to support a roof structure

Saddles – attaches to arms and functions as a decking supports

Drop-On Pans – used to store odd lengths of bar or rounds

Shed Roofs – for outdoor covered cantilever

Canopies – another covering option for outdoor cantilever racking
Purchasing Options
When purchasing a cantilever system, it's essential to know your application and product details. The amount, size, shape, and weight of your product all affect the style and amount of racking you need to purchase. 
Below are some purchasing options to get you started:
Starter Unit

– Consists of two uprights, arms, and a brace set

Adder Unit

– One upright, arms, and a brace set (to be added onto a starter unit)

Accessories – Listed above

New

– New cantilever racking

Used

– Save on used cantilever racking through Cantilever Rack Now
Our Cantilever Rack Manufacturers

















How Much Weight Can a Cantilever Racking System Hold?
Cantilever racking systems all have different storage capacities. The cantilever arms dictate cantilever rack capacity. Each cantilever arm is rated for a specific weight, and the product's weight should never exceed that limit.
Typical cantilever arms come in various capacity ratings ranging from 500-2000 pounds per arm (custom-engineered configurations are also available with heavier capacities). This number is the maximum amount of weight that a single arm in a row can hold.
If an arm is overloaded, deflection is likely to occur. Learn more about cantilever arm deflection and how to calculate your cantilever arm's deflection point.
The more arms there are in a row of cantilever racking, the more the weight will be dispersed, meaning each arm bears less of the entire load. Setting up your cantilever racking system requires precise calculations to determine the number of arms and what capacity arms you need to choose.
How Do You Assemble a Cantilever Rack System?
Assembling cantilever rack systems is simple. Here are the steps to follow when building a single bay of cantilever racking:
Connect the upright to the base
Attach the brace sets to the uprights
Once your structure is up, attach the arms with pins
Anchor your system
Finally, add any accessories or safety products
How Do You Design a Warehouse Rack Floor Plan?
Designing a warehouse rack floor plan requires intensive planning, CAD drawings, facility considerations, and adherence to local safety standards.
A warehouse rack floor plan is carefully crafted around the product and application. The product dictates how tall and wide the system should be. The product dictates which arms to use and how many racking bays are required.
It's best to contact a professional for large cantilever racking system designs. For help choosing the right cantilever racking, call 888-680-2256. We will happily help you select and design your cantilever rack system!
Common Cantilever Applications
Cantilever racking is excellent for long, narrow objects like steel piping or lumber. Additional applications include:
Steel bars

Bar stock

Plywood

Pipe

Tubing

Long, awkward pallets

Structural members

Carpet

Extrusions

Furniture

Doors

Boxes

Conduit

Aluminum and steel sheets

Rolls

Building material

Appliances

And more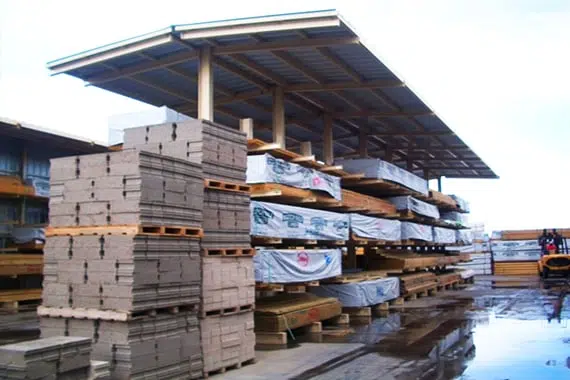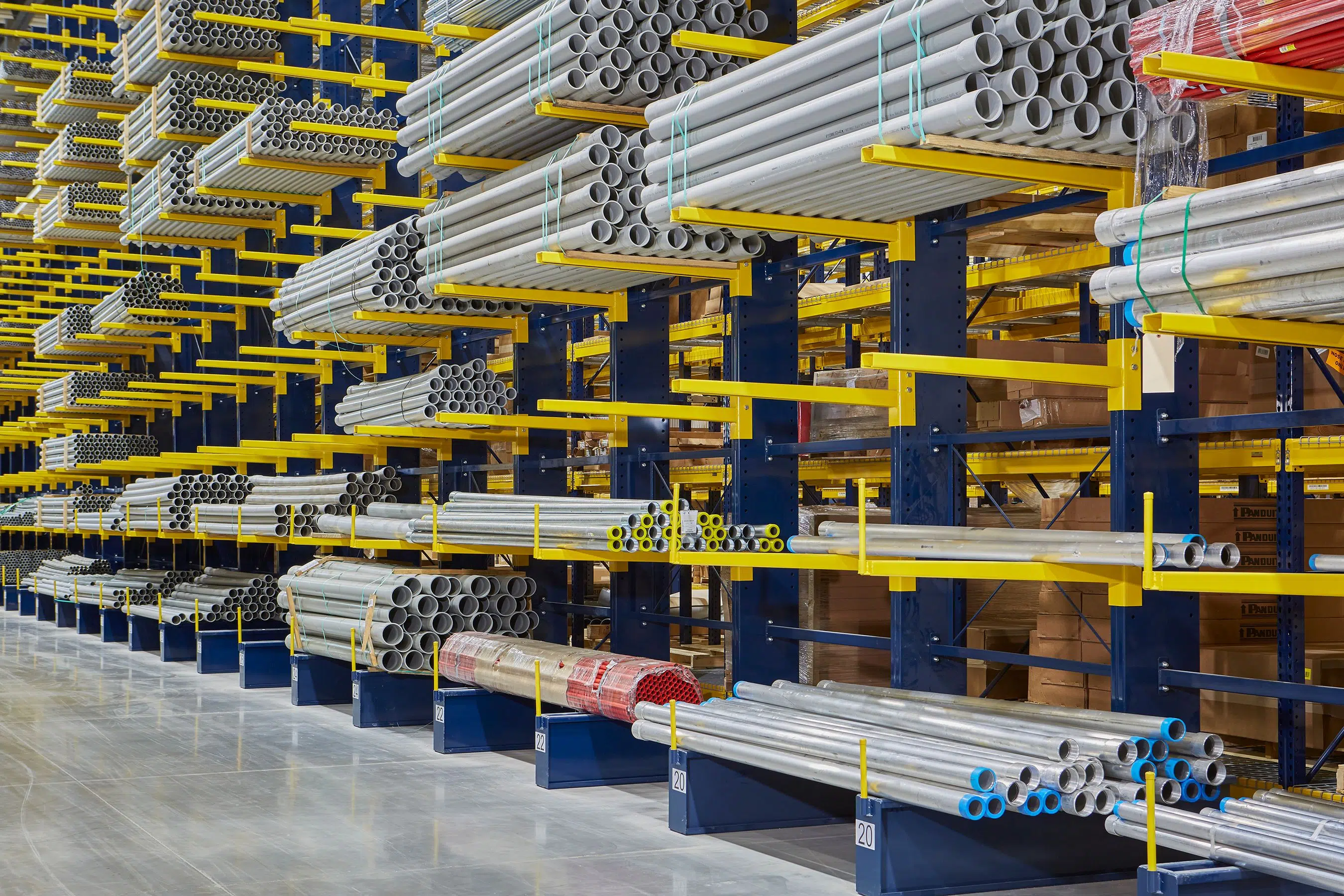 How to order Cantilever Racking Systems
Visit our How To Order page for a more detailed analysis of ordering cantilever and choosing the right components.
     → Step 1: Determine Arm Count & Spacing
Measure the product you are looking to store and figure out the number of arms necessary to support the load properly. Do you need to use pallets? The answer to this question helps determine arm spacing.
     → Step 2: Determine Arm Length
Measure the width of your product and find the arms that meet or exceed the width of your product. Uniformly distributing/centering the load is essential to avoid overloading the arms and causing system damage. Does your product roll? If so, pitched arms may be necessary.
     → Step 3: Determine Shelf Level Spacing
Determine how many shelf levels you would like to use and select the corresponding upright height.
     → Step 4: Determine Capacity
What is the load weight? This number will determine arm capacity and whether you need light-duty, medium-duty, or heavy-duty racking.
     → Step 5: Determine Brace Length
The product load should overhang the arm ends by one-half the distance from the upright centerline to the upright centerline.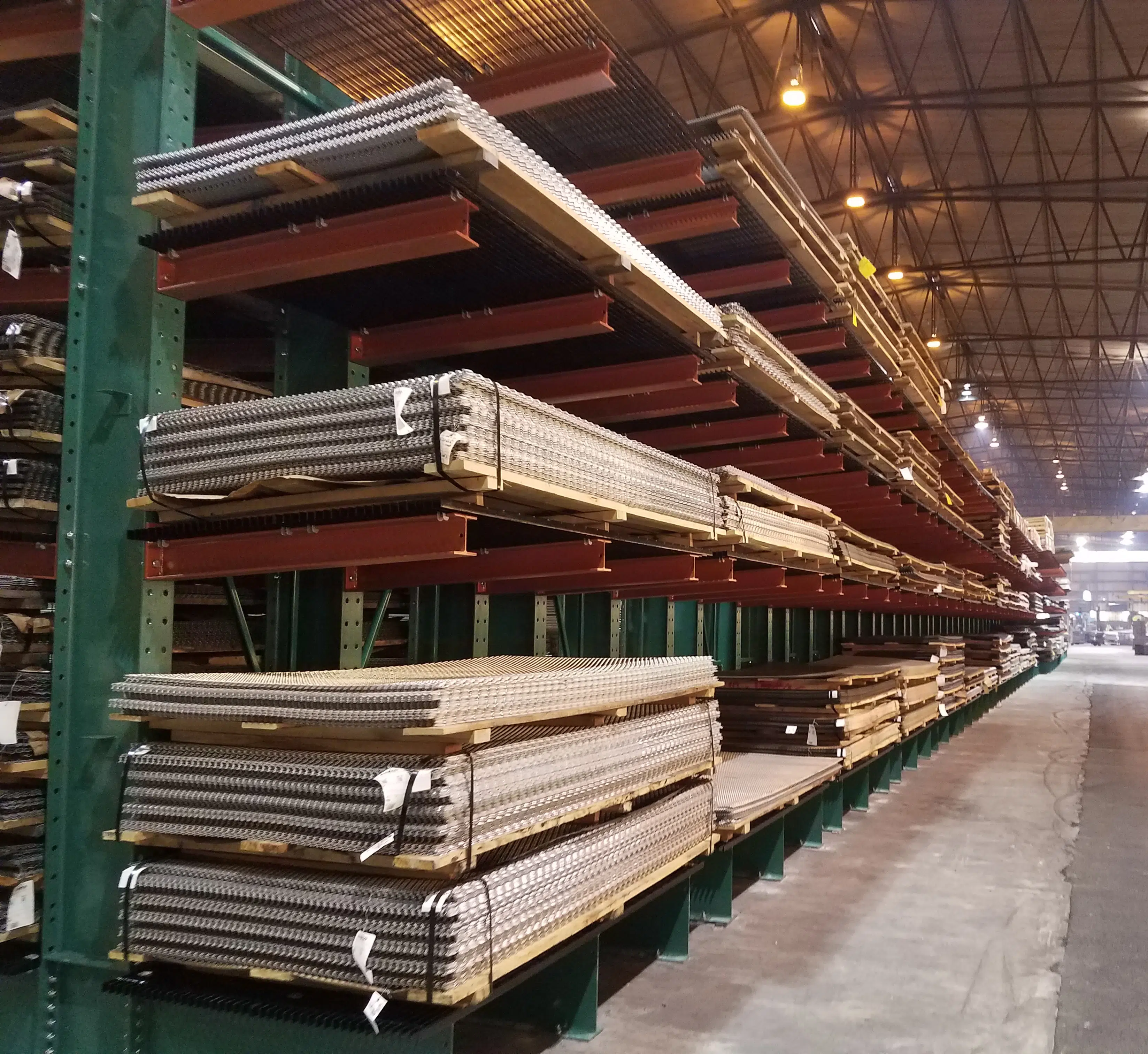 Cantilever Rack Safety 101
When it comes to storing products on cantilever racking, there are safe and unsafe ways of doing so. It is vital to follow local codes and regulations to ensure safe and proper storage. Here are some additional safety measures to consider:
UDLs – Uniformly Distributed Loads prevent arm overload and deflection.

Load flexibility – special equipment may be required to handle long products.

Down-aisle impacts – loads in transit require enough horizontal clearance to avoid a collision. 

Geographic location – seismic regions have different rack specifications.

Indoor vs. outdoor considerations – must account for harsh weather conditions.

Installation – always utilize a professional rack engineer rather than attempting an unguided install. 
Have Questions About Cantilever Racking?
If you have questions or require additional assistance, don't hesitate to reach out to our team of cantilever rack experts. Call us at 888-680-2256 or fill out a quote form to get connected with racking or installation services today!