Cantilever 101 – Helpful Cantilever Rack Information
Hello and Welcome to the Cantilever Rack Information Hub. Here you will find everything you need to know about cantilever rack systems. Visit our Blog for the most recent cantilever rack posts.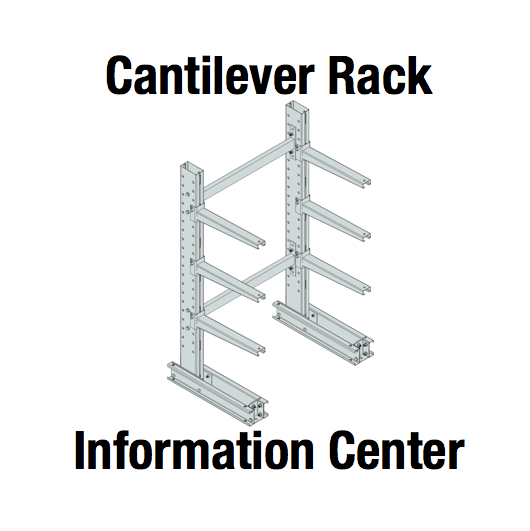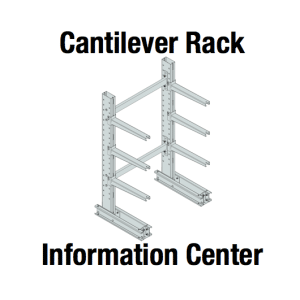 Cantilever Rack
Wikipedia defines a "Cantilever Rack" as a type of warehouse storage system consisting of the vertical column or uprights, the base, the arms, and the horizontal and/or cross bracing.
These components are fabricated from both roll-formed and structural steel. The horizontal and/or cross bracing are used to connect two or more columns together. They are commonly found in lumber yards, woodworking shops, and plumbing supply warehouses.
Typical products to store on cantilever rack include Bar stock, pipe, structurals, tubing, wood, long awkward pallets, and much more.
Cantilever rack is not the same as furniture rack. Furniture rack has a custom-designed shelf that the furniture rests upon where cantilever racking uses arms with no shelf surface.
Cantilever Rack Now offers roll-formed cantilever racking as our in-stock product line that can be purchased at our online store.
How to order Cantilever Rack Systems:
• Step #1:
Determine the number and spacing of the arms. Measure the product you are looking to store and figure out how many arm supports will be needed to properly support the load.

• Step #2:
Determine the length of the arm. Measure the width of your product and find the arms that meet or exceed the width of your product.

• Step #3:
Determine how many shelf levels you would like to use and select the upright height.

• Step #4:
Determine the capacities. How much will the arms and frames need to hold?

• Step #5:
Determine the brace length. The product load should overhang the end arms by one-half the distance from the upright centerline to upright centerline.
Cantilever Rack Components and Stock Sizes:
Uprights:
A cantilever upright consists of a vertical column that has a bolted connection into a horizontal base. Each Cantilever rack system begins with a minimum of two uprights.
These uprights ship unassembled in 4 pieces that can be easily assembled on-site with the hardware provided. Our uprights have holes punched on 3″ Centers on both sides of the uprights and can be used with both single and double-sided bases.

Online Stock Sizes Include: 96″ High x 38″ Deep Base, 96″ High x 50″ Deep Base, 120″ High x 50″ Deep Base, 120″ High x 60″ Deep Base, 144″ High x 50″ Deep Base, 144″ High x 62″ Deep Base

Arms:
Cantilever rack arms are the main component to the rack system. Proper selection of the arms can make or break the success of the storage system.
Our standard arms are considered straight arms with a 3/8″ pitch per foot to compensate for deflection. Inclined arms are available upon request.
Arms are connected to the uprights with hairpin Keepers. Arm lips are available upon request.
Online Stock Sizes Include: 24″ Long 1,200# Capacity, 36″ Long 800# Capacity, 36″ Long 1500# Capacity, 48″ Long 1000# Capacity, 48″ Long 2000# Capacity

Bracing:
Cantilever bracing is structural channel members that bolt the uprights together providing lateral stability to the entire rack system.
Our bracing typically comes in sets of 2 or 3. 2 is used for our 8′ high uprights and 3 brace sets are used for our other heights including 10′ and 12′ high. Brace measurements are center to center of the upright so the actual brace piece may measure slightly less than the stated measurement.

Online Stock Sizes Include 48″ Bracing, 60″ Bracing, 72″ Bracing. All bracing sizes have both 2 and 3 sets.
Frequently Asked Cantilever Questions:
How do I determine the correct length of arms for my product?
How to determine the correct height of your cantilever rack system?
Questions to Ask When Ordering Cantilever Rack for Your Warehouse