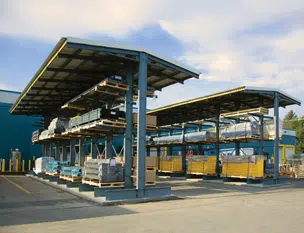 Outdoor cantilever racking is a storage system for long, bulky objects like lumber, steel pipes, building materials, and more. Cantilever racking can be used indoors or outdoors but may require specific customizations for outdoor applications to bolster it against harsh elements like rain, wind and snow, sun, and temperature fluctuations. We'll talk more about what makes cantilever racking suited for outdoors below.
Cantilever racking is characterized by the long horizontal cantilever arms that extend out from a center column. These arms create unobstructed shelf levels to store long runs of products. Cantilever racking is often used in construction sites, lumberyards, warehouses, and other outdoor storage areas.
Outdoor Cantilever Rack Storage Applications
Lumber and Building Materials

Construction Materials

Architectural Materials

Metal and Steel Products

Recyclable Materials

Retail and Garden Supplies

Automotive Supplies

Boat and Marine Equipment

Outdoor Sports Equipment

Warehouse and Distribution Centers
5 Common Outdoor Cantilever Rack Customizations
Rack Material

: Choosing the right material for your outdoor cantilever rack system plays a vital role in its resistance to the elements. Galvanized steel is a common choice for outdoor applications because it is durable and corrosion-resistant.

Roof or Shelter

: Adding rack roofing or a shelter over the outdoor cantilever system is another customization to protect the racking and product from damaging weather conditions.

Coatings and Finishings

: Epoxy, powder coat paint, galvanization, and other weather-resistant treatments are available to safeguard cantilever racks and slow corrosion and rust. 

Anchoring

: Proper anchoring is required for outdoor cantilever racks in areas prone to high winds or seismic activity. Consider the specific environmental factors of your location to customize your outdoor cantilever system accordingly.

Safety Accessories

: Safety accessories like safety guards, end stops or bumpers, pipe stops, rack reinforcements, and forklift guide rails can enhance the safety and efficiency of your outdoor cantilever rack system.
Shop Outdoor Cantilever Racking
Shop outdoor cantilever racking at Cantilever Rack Now. Fill out a quote form or call 888-680-2256 to discuss system specifics and cantilever rack customizations for your outdoor application! Our cantilever rack experts are ready to help design and implement a custom outdoor storage solution for your facility.