MECO cantilever rack is a durable storage solution for many applications and capacities that typical pallet racking cannot store. Cantilever Rack Now has partnered with MECO Omaha for many years. Our MECO Omaha cantilever rack is the perfect solution for long and bulky storage products. 
Are you looking for MECO cantilever rack? Look no further. Shop our online cantilever rack store, fill out a quote form, or call 888-680-2256 for a detailed MECO cantilever rack quote today!
About MECO Omaha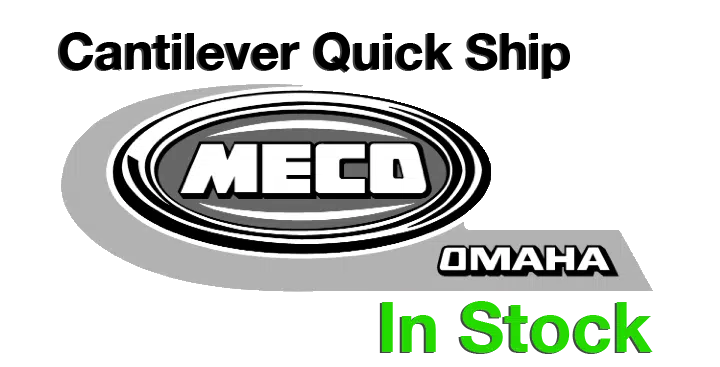 MECO Omaha is a cantilever rack manufacturer based in Omaha, NE. They manufacture a complete line of cantilever racking and storage equipment for the Material Handling Industry, although that isn't how they started. 
Established over 100 years ago, MECO was initially known as the Omaha Folding Machine Company, which manufactured automatic newspaper folding machines. They patented and marketed this line of machines nationwide for over fifty years until newspaper folding became obsolete.
Today, the company offers various cantilever systems and warehouse storage products. MECO Omaha cantilever racking is grouped into five capacity series from Series 1000 (medium duty) through Series 5000 (extra heavy duty) to cover any storage capacity requirement. 
Shop MECO Omaha Cantilever Rack
Cantilever Rack Now is a stocking distributor of MECO Omaha cantilever racks. We are one of the only online stores offering MECO cantilever nationwide for quick shipping. 
If you're searching "used pallet racking Omaha" or "pallet racking Omaha," we can help! We ship new and used cantilever racking right to your door in Omaha or anywhere in the country! Shop MECO Omaha cantilever rack online or contact us for assistance. 
Cantilever Load and System Questions
If you want help placing your cantilever rack order, you'll need to know some basics about your application and storage intentions. Ask these questions: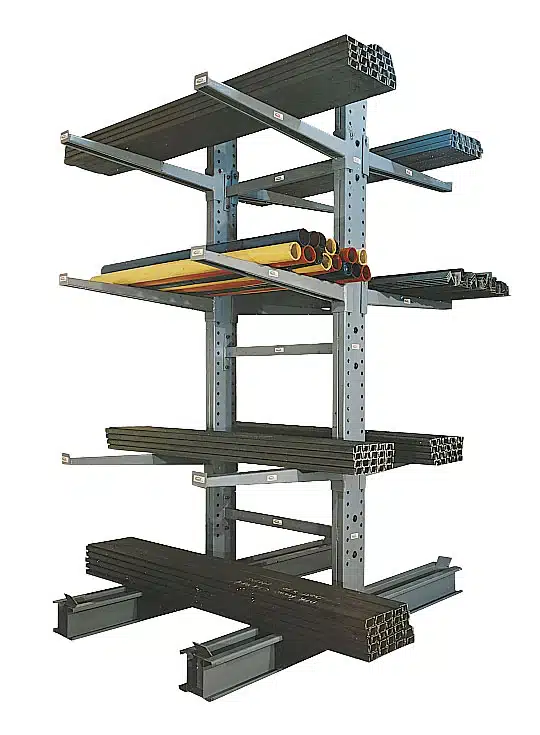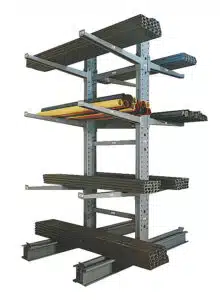 What are the product's dimensions (length, width, height)?

What product will you be storing (steel, wood, tubing, plastic, etc.)?

What is the weight per product bundle (in pounds)
When choosing MECO cantilever components, ask the following cantilever upright questions and cantilever arm questions:
Do the arms need to be inclined?

Do you need arm accessories like

pipe sockets

or

arm lips

?

What cantilever arm capacity do you need? (divide the load by the number of arms)

Will you need single-sided or double-sided rack systems?

How high do you want to keep products?

What size base will you need? 

What is the spacing between uprights?
For help answering these questions, call 888-680-2256. We look forward to helping you find quality MECO Omaha cantilever rack!
Meco Omaha Cantilever Rack Installation Instructions
We suggest leaving MECO Omaha cantilever rack installation to the professionals. There are many steps to cantilever rack installation that require specialized knowledge and tools. For instance, you need scissor lifts and other heavy machinery to install cantilever arms and other high-up accessories.
Knowing the order of installation – what components go up first and in what direction – is essential for personal safety throughout the process. Balancing uprights precariously and not knowing what to attach next could be deadly. Cantilever rack components are large and heavy, so properly handling, moving, and connecting the different parts is necessary. 
For help installing your new MECO cantilever racking, call 888-680-2256 to contact a specialist!