Used Cantilever Racks For Sale
High Quality Used Cantilever Racks
Used cantilever rack systems are often found in lumber yards and steel manufacturers.
Typically, new cantilever storage racks are custom built for the product being stored on them. This is important because most of the time capacities are very hard to identify on used cantilever rack systems.
A common issue with used cantilever racking is the compatibility with other used cantilever rack systems. Each manufacturer typically uses a different style cantilever arm to upright connector limiting compatibility between units. Email our sales team a picture of your cantilever rack and we can help you identify it if needed: [email protected]
A cantilever rack storage system can help you maximize your warehouse space by storing large amounts of product vertically without width restrictions. Although we do offer used cantilever racking, we always recommend our customers to go with a new rack system that fits the products they are storing.
New cantilever rack systems can be stamped with load capacities and are backed by the manufacturer. Our manufacturer offers a full two-year warranty against defects, repair, or replacement. Any alteration to the products void all warranties.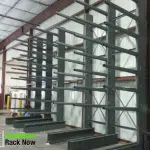 Used Cantilever Racks in Minnesota
You can pick up your second hand cantilever racking here in Minnesota at our Maple Grove warehouse. We offer competitive pricing and will make sure you find the racking that best fits your space and needs. Speak to one of our cantilever experts and feel confident that you are shopping for exactly what your product will fit.
Get Money For Your Used Cantilever Racks
Wondering how much you can get for your used cantilever? Click here to request a quote from Cantilever Rack Now on your Used Cantilever Shelving. With our large network of used cantilever dealers if we are not interested in the racking we can help you find someone who will buy your rack.
Do you want to maximize the value of your used cantilever rack system? Make sure to be able to answer these basic questions about your used cantilever shelving:
Where is the product located?
Is the used cantilever still standing or down on pallets?
Do you have the original paperwork from your order?
Do you have pictures of the used cantilever?
How quickly are you looking to sell the product?